Features
E type : Has an ellipsoidal reflective surface, capable of high-speed heating to high temperatures.

VHT type : Capable of heating up to 1800°C with the halogen lamp heating method.

P type : Has a paraboloidal reflective surface, capable of evenly heating a wide area with parallel infrared light.
Applications
Annealing for Solar cells, CIGS, and CZTS.

Annealing of SiC power device.

Quenching and annealing of metals.

Thermal-shock test of ceramics.

Brazing.

Catalyst (Gas analysis).
Principle
Radiant spectral distribution of the infrared lamp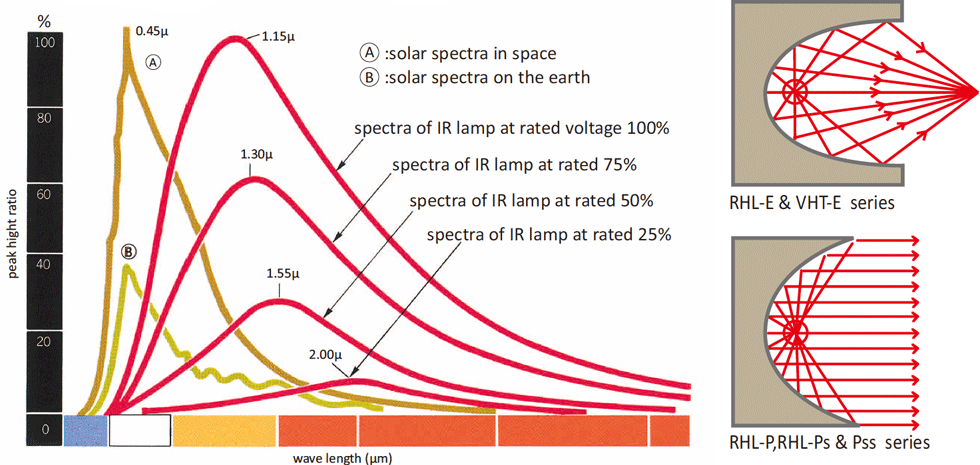 1. Radiation heating
The infrared gold image furnace is a radiation-heating furnace that uses an infrared lamp with high energy density as a heating source.
The furnace body is made of aluminium alloy with water cooled and the reflection surface of the infrared rays is polished and coated with gold which has a high reflection.
2. Infrared lamp
The tungsten filament is sealed in a quartz glass-made tube and the peak of the spectrum is approximately 1.15 µm in the near-infrared region.
The infrared lamp provides an energy density 10 to 15 times as high as the conventional heating element.
3. Reflector
The reflector is machined with high-precision curvature to enhance the reflectance and inhabit deterioration.
The reflector is available in two types due to its shape, one is an elliptical type and the other is a parabolic type.
The model RHL-E and VHT-E series have an elliptical type reflector and is suitable for the heating of the rod-shaped sample, and the other model: RHL-P, RHL-Ps and RHL-Pss series have a parabolic type reflector and is suitable for the sheet-shaped sample.